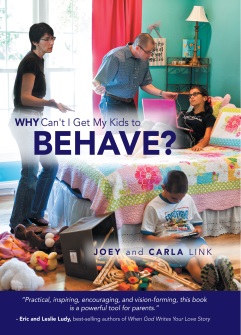 I have just finished reading the book Why Can't I Get My Kids to Behave? authored by Joey and Carla Link. How encouraging and convicting! Do you have a PLAN for raising responsible, respectful, and obedient children whose lives are a shining example of Christ? Even with a plan, it is SO EASY to become weary! This book helps a parent to set Godly standards and lays out the steps to training obedience. Is it possible to raise obedient children? Yes. IF we do not give up in our weariness (Gal. 6:9)
One clearly made point to me was about time-outs, grounding, and taking away privileges. The Links say that these parenting practices are often not effective because the child is just serving their time much like a prison sentence. I can clearly see my children just wait for the time to be up and it's not long before they are returning to the same behaviors! This book provides answers to such a dilemma.
There are so many examples and practical applications that this book provides. It is a must read and a great addition to your Christmas list!!
The authors and their adult children are very dear friends. The fruit of their labor as parents is beautiful. I am not alone with my opinion of this book. As of today there are 43 reviews of this book on Amazon and ALL of the reviews are five stars and I haven't even added my review yet! I encourage you to check out the Link's website titled Parenting Made Practical.