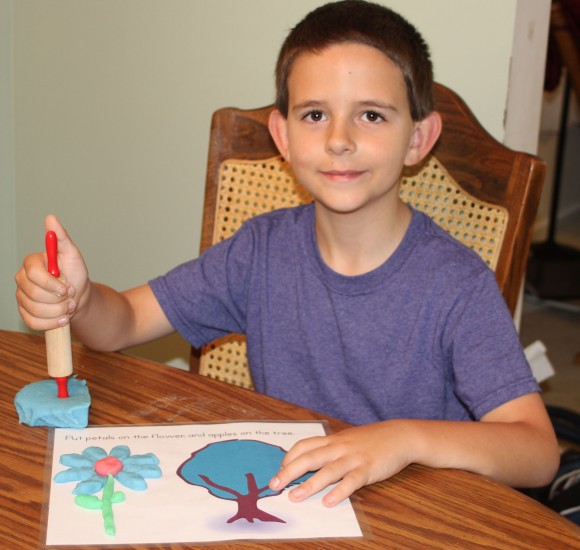 Play Doh© has not been an activity that has been used hardly at all in our home since having a four year old that is allergic to wheat and breaks out in severe skin rashes.  If I were completely honest, I don't care for the mess either! I have tried "Moon Sand" which is even messier- yikes! My children could really use the sensory exposure to Playdough. More than one of my boys wrinkle their noses at the squishy texture (probably partly because of their lack of exposure to it).
Then it occurred to me. With the gluten free craze, I wondered if there is any such thing as gluten free playdough, and better yet, couldn't I make some with rice flour instead of wheat flour? You've gotta love the Internet- sure enough a quick search turned up more than one variety of wheat free playdough.
We tried two different recipes, one with common pantry ingredients and another recipe with rice flour (which can be found at many grocery stores in the speciality foods section). My children and I overwhelmingly preferred the rice flour recipe! It had the texture of the regular playdough whereas the all corn starch batch was much firmer and drier. The dough was pretty easy to make; I encourage you to give one of these recipes a try!  

Our favorite gluten free recipe using rice flour (Blue in photo)
I did kneed anything into the blue playdough recipe because it was the right consistency when I took it out of the pan. The more we played with it the stickier it got. I kneaded in about 1.2 cup of flour/corn starch mixture two weeks after I made the playdough. It blended just fine.If you over do it you can always add a few drops of water.
Gluten free recipe using more common household ingredients (Green in photo)
One last discovery….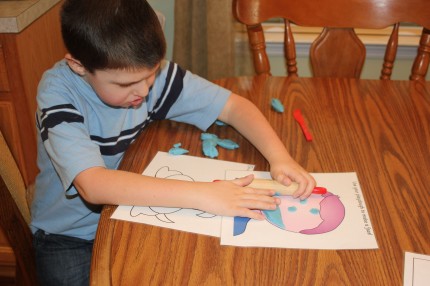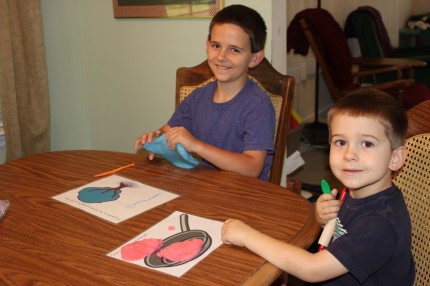 All my years of working with children, and I have only recently discovered "Playdough Mats"! They are simple pictures that you print out and laminate (or cover with clear Contact Paper available at Walmart). I like to use them as guides so that when the young ones say "What do I do?" I have an answer AND a way to extend their attention! The frying pan mat was my boys' favorite one. Check out the following site for some cute Playdough Mats or create your own!
http://planetoftheapels.blogspot.com/2011/09/busy-bag-swap-day-5-playdough-mats_05.html