These discovery bootles are our contribution to a busy bag swap with our local home school support group. this busy bag swap is for items appropriate for 2-3 year olds.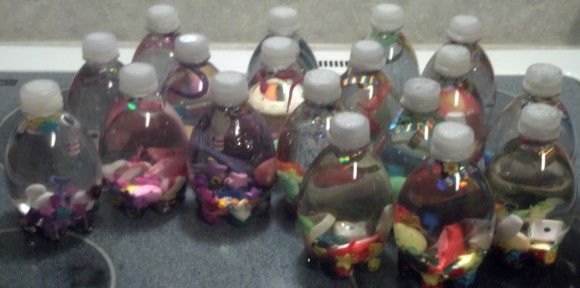 My boys and I had so much fun making these bottles!  They kind of evolved from 'just' a neat thing to look at to a challenge for an older child. Because this change of gears happened after I started making them, the bottles don't have all of the same items (which adds to the challenge). I thought I would create a check list that you can print out for any older siblings.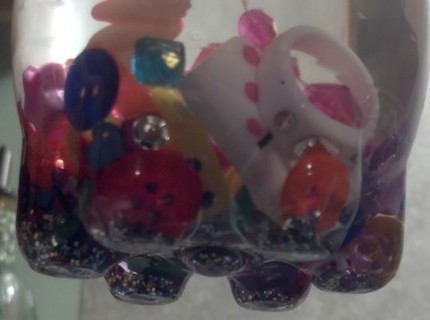 ABC letters- Can you spell a word with your letters?
pony beads- How many different colors?
bowling pin
domino- Add the two numbers to find the sum.
die
marble
car Squinkie
frog
buttons- How many can you count?
star beads
gold stars
car, airplane, and train buttons
aquarium rocks
sea shell
zoo animal
whale
heart
2 googly eyes
shimmery ribbon
sequins- 3 colors (one is hard to find)
Lego- It may not look like a typical piece!
ring
penny & dime (one has 2 pennies & dimes- a little helper lost track)
ladybug button
circle sparkle "gem"
nail
Lite Brite piece- look hard!
ice cream/dessert
smily face ball
The next posts on Busy Bags will provide pictures of items we received in the busy bag swap as well as tips on making items durable without breaking the bank.