I have had the opportunity to participate in something called Busy Bag Swap this past month. I must admit that this term was foreign to me and I'm still learning! I have written in a previous blog post about Learning Stations and these Busy Bags will work VERY WELL with the stations!
So what's a  Busy Bag Swap? A group of ladies each choose an activity to make that would fit a predetermined age group. The activities either teach an academic skill (like ABC's or counting/number matching), fine motor development (like tracing or Pincher grasp by using tongs), or are visually entertaining  (like I Spy or discovery type things). These activities are designed to keep the little ones "busy" and each one is put into a zip bag making it easy to grab one and go–thus the name Busy Bags! The key is that each mom makes enough of THE SAME ACTIVITY for each lady participating.
Our group had 18 ladies and the age range of 2-3 year olds was chosen. We created a sign up sheet to ensure there weren't any duplicate activities. I checked out several idea sights on the Internet and chose the "Discovery Bottles" as my activity (after checking to be sure I could find AquaPods water bottles!) Because a picture is worth a thousand words, check out the following websites to get a better understanding of the types of activities.
"Discovery Bottles"
http://familyfun.go.com/crafts/crafts-by-age/toddler-crafts/discovery-bottles-675306/
http://secondstorywindow.typepad.com/home/2011/10/toddler-time-busy-bag-series-part-2.html
http://therigneys.wordpress.com/2011/08/26/toddler-busy-bag-swap/
Check out this website for instructions & pictures of homemade Geoboards- used with 2-7 year olds:
http://planetoftheapels.blogspot.com/2011/09/busy-bag-swap-day-7-geoboards.html?m=1
http://planetoftheapels.blogspot.com/p/our-busy-bag-swap.html?m=1
Here are some items that we received in our Busy Bags with a few comments and suggestions based on our experiences.
Gel bag and Marble Maze – The gel bag is appropriate for 4-5 year-olds. The gel bags need to be tapped with clear packaging tape. The marble maze is great to attach to a stroller for toddlers. It is a marble sown in between two pieces of cloth with stich lines added to create a maze to move the marble through. I even bought one as a birthday present for a 1 year old. Our son Caden's occupational therapist (OT) went bannas over the marble maze and plans to use it as a finger warm-up exercise with her patients.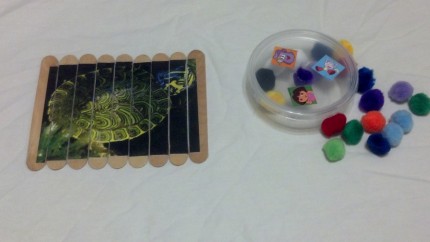 Popsicle Stick Puzzle and Pom-Pom Stuff It In – The popsicle stick puzzle can be covered with clear packaging tape to make it more durable. This one was a challenge for a 4 1/2 year old. The Pom-Pom stuff it in is another finger strengthening exercise tool. I've used it with all ages from toddler (2 yrs) and up.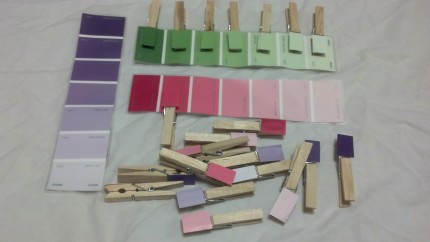 Color Match Pins – The Color Match Pins are paint sample strips from your local home improvement store or Walmart. The older ages (4 yrs +) had fun with this one. The pins were a little too difficult to squeeze for our little 2 year old.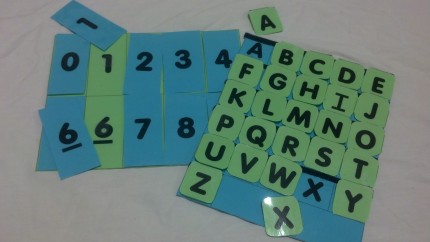 Letter and Number Match – The number match used a clear velcro dot in the center of each number tile. That made it very easy for a toddler to grasp the number tile from any angle.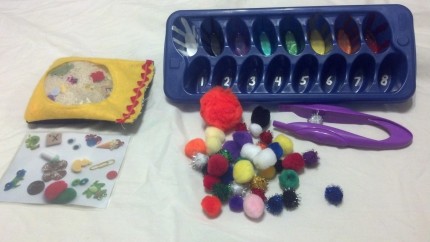 Eye Spy and Egg Crate Pom-Pom Sort – Both of these items have been enjoyable for all ages. I like the compact nature and transportability of the eye spy. Toddlers will grow into the use of the tongs with the Pom-Pom sort. Right now he enjoys putting the Pom-Poms in the holes with his fingers. (over and over and over again)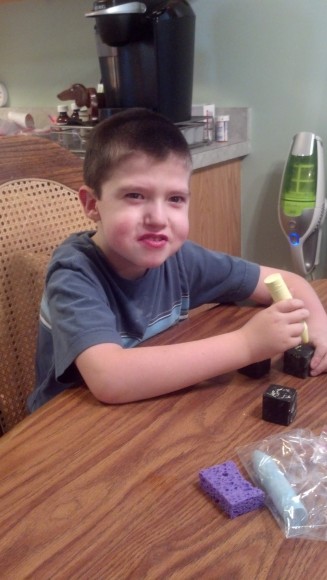 Chalk Blocks – I love the creativity of this item for preschoolers. These are simply square blocks of wood painted with chalkboard paint. I would recommend that the blocks be a little larger for the younger ages and ensure that all sides are sanded smooth before painting.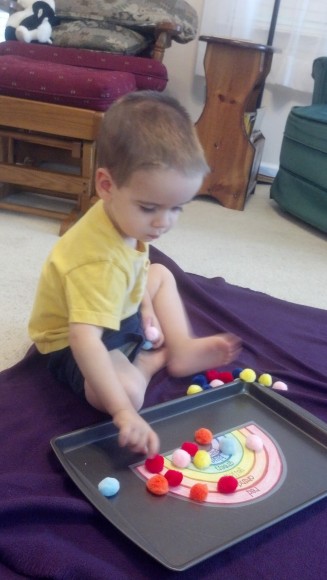 Magnetic Pom-Pom – This is very entertaining for my toddler. The Pom-Poms have magnets hot-glued to them. Our next chore is to find a way to make this one portable without having to carry a cookie sheet in the diaper bag. Please post your ideas in the comments below. Here are a couple of links to download two more Pom-Pom mats. You will need Adobe Reader to view them.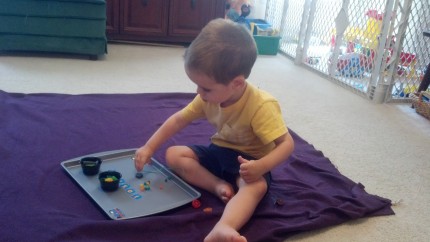 Pasta Sort – My toddler spent the better part of an hour filling and dumping the cups. He tried to string the pasta by himself but required some assistance. I will try using a pipe cleaner next time.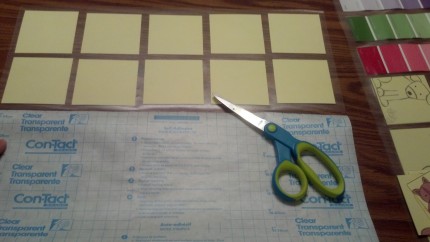 Con-Tact Paper – I used Con-Tact paper to laminate some of the paper items to increase durability.