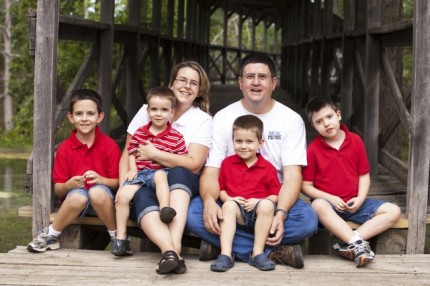 Welcome to the Home School Support Network!!! Thanks for inquiring about us. I am Hank and I appreciate the opportunity to introduce my wife and kids to you.
We (Hank and Sherry Osborne) are committed Christian home schooling parents. We have four sons (Riley, Caden, Josiah, and Levi) and one sweet little girl (Piper Rose).  We have lived in Goose Creek, SC for over ten years and are active in our church and community. We are members of the national leadership team for Growing Families International (GFI) and we have been leading parenting classes based on the GFI curriculum for nearly a decade.
Formal Education and Work Experience
I obtained a B.S. in Computer Science with honors. Sherry obtained a B.S. in Elementary Education with honors. Sherry's studies also included an emphasis in early childhood development. Both of us have completed certification and graduate level work in our respective areas of study. I hold the GIAC Security Leadership Certification (GSLC) and a the Global Industrial Cyber Security Professional Certification (GICSP). In addition to co-hosting and producing this site and podcast I have produced a popular podcast for Christian dads called Daddy Life. So if you are a dad and are striving to rise above the level of mediocrity like me then I would be honored to have you join me over at Daddy Life. I also share advice on Internet and Technology safety that is appealing to moms and dads.
I am employed with the United States Government as a Computer Scientist. I have served at the highest levels of government in the field of information systems security management and security engineering. In addition to my extensive hands on technical experience, I have developed and implemented security policies and guidance for more than a decade.  I have also appeared before United States House of Representatives and United States Senate subcommittees as a subject matter expert on cyber security.
Home School and Teaching Experience
I am the principle of the Land of Ozz Home School (our cute name for our family homeschool). I have taught computer programming, security, system administration, and operating system classes on and off throughout my career.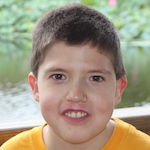 Sherry is what I like to refer to as a domestic engineer. That means she is the primary home school teacher, diaper changer, laundry washer, and meal preparer in our home.
Sherry has taught Sequential Teaching of Explicit Phonics and Spelling (STEPS) and Cursive First in a local home school coop with great success. In addition to all of this Sherry handles the majority of the coordination of care for our son Caden who was diagnosed at birth in 2004 with 22q11.2 (Di George Syndrome).  Caden is exclusively tube fed and sees several therapists on a weekly basis plus has frequent visits to numerous clinics at the Medical University of South Carolina Children's Hospital. His clinic visits are related to the major surgeries he has had which outnumber is birthdays by far. (e.g., heart x 5, back x 10, neck x 1, stomach x 2, etc)
Ozz Kids
You have learned a little about Caden in the above paragraph. Caden is a 5th grader and is still catching up to kids his age. He has faced and continues to face severe medical challenges than distract from learning. He is continuing to learn to read and write this year and is also progressing well with math. Caden is one of the most empathetic and caring kids you will ever meet.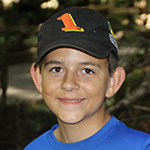 Riley is our oldest. Riley is a 9th grader. He has completed 4 years of Latin, loves football, is an excellent pianist for his age, and loves math…like his daddy. I think Riley is also the most educated kid I know on the subject of evolution even though he fully believes that God miraculously created everything in 6 days just like the book of Genesis says. He loves NASCAR and his favorite driver is Jamie McMurray. He got to meet Jamie McMurray at Sonoma Raceway in 2016 during Caden's Make-A-Wish trip. Riley served as team captain for the 1st Place State Award for SC Middle School Teams in 2014-15 in the US CyberPatriot: The National Youth Cyber Education Program. They finish in 2nd place in the state in the 2015-16 season against a larger and more seasoned field of competitors.
Josiah (JJ) is our 10 year old 5th grader. He is a cute little boy with a charm that lights up a room. He wants to be a doctor and probably will be. Levi is our 7 year old in 2nd grade. He is wide open and keeps up pretty well with his older brothers. He has advanced well in math by learning multiplication, counting money, and how to tell time all in his K5 year. Our sweet baby girl Piper Rose is the latest addition to our family. She is 4 years old and lives up to her nickname (Sweet P).
| | | |
| --- | --- | --- |
| Josiah | Levi | |
Other Places to find us on the Web
Sherry and I started our first blog (Caden's Page) on hoei.com on November 2, 2004.  Since then we have blogged for numerous sites including GrowingKids.org, ParentWiseSolutions, HOEI.com, The Land of Ozz, and Grill'n Time.
Connect and Tell Us About You
We invite you to connect with us on Facebook, Google +, and Twitter. We would love to learn more about you and your homeschool experiences.